I finally received my roving in the mail and they are excellent. The roving I bought from sunset fibers is so rich in color that I don't mind the texture so much (I mentioned before I'm not a big fan of corriedale) but I have a feeling when spun up it will be wonderful in both color and texture! The roving from Copperpot is terrific not only is it super soft but the colors are lovely. The splash colorway isn't as bright as it looked on my monitor, the pink looked like it was a hot pink but it's really a cranberry maroon (a little disappointing ). The minute my sister saw it she said the roving looked like Barney :( I am sure it will spin up great and not look like Barney in the end. I haven't taken the roving out of the package yet so I am not sure if the colors are blended together (looks like it is) or if their more separated. If they're more separated I might see about pulling the two colors apart and plying the two colors together to create a nice fluffy twist colorway. I haven't really spun any bulky weight yarn yet as my hands seem to want to spin thin singles (which is ironic since I don't use alot of lightweight yarn) but I want to try because I think this colorway would make a great bulky yarn. I have it in my head that it would make a great pair of chunky mittens.
It was a bad idea to buy all that roving as a last day of class celebration because it has thrown me into a shopping frenzy! I just keep on buying, I really need to stop otherwise I will be out of money in no time. At least I start my new job next week. Anyways let me share some of the items I have bought. Since we're on the topic of roving I bought another 4 oz from Copperpot and really there was no way I could resist she put another batch of her Victorian holiday up!!! That's the one in the last post that I absolutely loved but was sold out! It is a merino bamboo blend and absolutely stunning! I cannot wait to see how it feels!
Hopefully I won't be too afraid of spinning it up lol. I also bought another 4 oz from the etsy seller
CatsMeowPresents
. The colorway is called watermelon (image above, taken from their etsy shop) and just lovely. What better color is there to spin with the summer approaching! This roving is Falkland and I'm interested to see how it feels and spins. I'm a little nervous getting my hands on a new type of wool but excited as well.
Besides buying roving I also bought a new spindle, called a little Joe spindle, which I absolutely
love!
It spins effortlessly and is very pleasing to look at. Plus it is very affordable! I may have to buy more!
I got my Little Joe from
Heavenly Handspinning
. I bought it from their etsy shop but they also sell items on their website. I received it in the mail on Saturday and grabbed my new dyed roving (sunrise sherbet) to test it out. The first few minutes were a bit rough since it spins so differently than my other spindle and I've never spun merino up before. I can see now why they say merino might not be best for a beginner to start with.
I love that it drafts so much easier but the downside is it also snaps/pull apart easier while spinning which resulted in my spindle dropping to the ground a few times. So I have to keep connecting my roving over again which has helped with my joins. With the first singles I spun for my yellow/orange/black yarn (now called Fiesta Time) the joinings were thicker and more noticeable. Now I can get a nice even and consistent join. Eventually I got the hang of the new spindle and have a nice consist single going. It is very thin though not sure what I would make with it, I only have 2.5 ounces of the sunrise sherbet roving, and I read it takes about 4 oz for a hat, socks or mittens. I could try to make a pair of baby socks with it. I'm sure they would come out lovely! We'll see. I might ply it with a different color to get more yardage but I haven't decided yet. I don't want the colors to get lost when plied with something else. I do have a nice soft lavender though that might ply nicely with it. Part of me is thinks it would be to many colors but another part of me thinks the light purple would go great plyed around the pale yellow, orange and pink of my sunrise sherbet roving.
After about spinning for 15 minutes on my little Joe I am now capable of drafting the roving as I spin! I'm really excited about this as it means I won't have to predraft as much and that the process will go a bit faster. Heavenly Handspinning has some great videos on their site, and one of them was for the park and draft spinning method, which really helped me to understand what it was I was supposed to be doing while drafting and it finally just all made sense. The little Joe spins so much longer then my older spindle that I really got a good chance to try drafting as it spun. My old spindle constantly had to be set back into a spin so that I didn't have time to try to draft the fiber as I went and could actually see what I was doing. I still like my older spindle and will be keeping it around (after all I still have my green roving spinning on it) but I LOVE my little Joe! I might paint my old spindle and keep it around for decoration if I don't use it after this.
Ok now on to the final and most exciting item that I bought, a SPINNING WHEEL!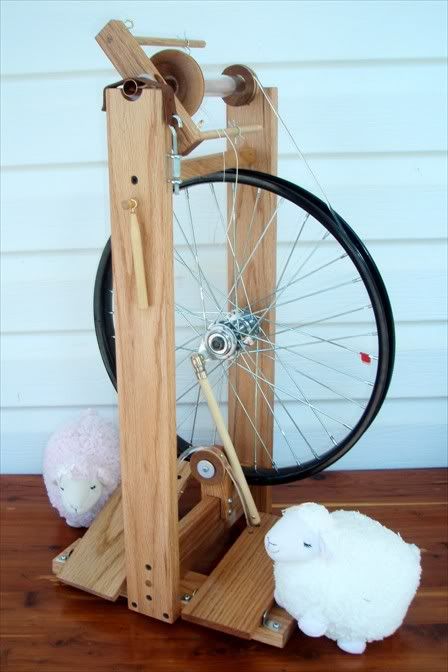 I have been looking at different spinning wheels online for a while now and was planning on setting up a new savings account so that eventually I could buy one. The initial plan was to put some of the money I already saved up and my graduation money into a new account to start with then transfer about 40-60 dollars each month over to it but with the price of wheels it would take me a good year or so to save enough money. I was set on this plan and ok with it until I stumble across Heavenly Handspinning! Not only do they make spindles but they also make wheels! Not only are they cute (picture above, take from heavenly handspinning) but their
cheap
as far as wheels go! I was a little hesitant at first since I've never heard of them and wasn't sure how the quality was, but after watching a few videos on how to set the wheel up and some demos of how it ran I decided it looked like a great wheel for a beginner. It looks simple to assemble and spin with and doesn't look intimidating. I also decided that before I bought it I would check on ravelry to look into different wheel manufacturers, so I did a group search for spinning wheels and low and behold there was a Heavenly Handspinning wheel group! After talking to a few members there and reading the forum posts I decided I had to have this wheel so for a graduation present to myself I bought one! I bought their double treadle Bellus wheel and it should be shipped out by the end of this week!
On a whim I also made a spindle. My sister just came back from college and we were cleaning the room and organizing when I came across a random dowel so I got my craft bin out and got to work.
For the whorl I used a pom pom maker and then to connect it to the dowel I cut off the rim of a stitch protector, it was one of those plastic sock stitch protectors that you can pick up at a local craft store, placed the dowel through it and the pom pom maker sits on the stitch protector. The whorl could be heavier as the spindle isn't very balanced but once you get some singles spun and add weight to the shaft it works nicely. The dowel did crack at the top where the hook entered so I had to use some packing tape to bind it back up. In all I don't think it was a bad first attempt especially since it was a spur of the moment project that took 5 minutes.